Waldorf Style Baby Online Course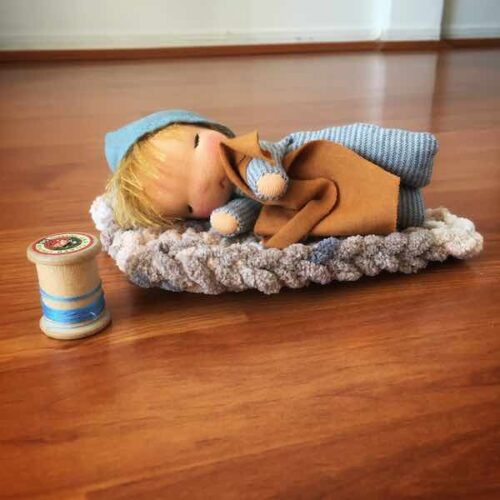 This is a 100% digital product.
This Waldorf-Style Baby (14cm) is a simple project, but requires some familiarity with hand and machine sewing, as well as some crocheting skills. The course includes video lessons and patterns. Video lessons are more detailed than tutorials. I will guide you step by step in all the details of making the doll. You will learn how to make a lightly sculpted Waldorf-style head using the wool felting technique; form the pattern of the head into the fabric; assemble the doll; embroider the eyes and mouth; make a mohair wig; affix the wig with sewing; styling hair; and make a fabric hat.
The specific materials you will need are:
Cotton knit for head and hands
Cotton or linen fabric for the body
Mohair wool for hair
Fabric for the hat
Fabric (mesh) for the blanket/bib
Carded sheep wool for head and body filling
Beeswax Chalk for Blush*
Embroidery thread for mouth and eyes in colors of your choice
Cotton string
Tubular gauze*
Fine felting needle (the higher the number, the finer)
*Tubular gauze and beeswax chalk are for sale on the products page but are not available for International shipping (outside of Brazil).
Immediately after purchase, the course will be available on this page. Remember your login details and password to access your course! Click here to log in.
Support for any questions via email. Information included in the material.
Materials included
1 doll pattern
4 video lessons